2019 PRIDE DAY
FRIDAY AUGUST 23
The official 2019 Pride Day is Friday August 23, with a rainbow flag raising, an Information Fair, a Pride Day Ceremony, special entertainment and a daily parade. The LGBTQ Booth will be open from 10 am to 10 pm. Visit our facebook page for more details.
The complete schedule for 2018 Pride Day follows, the 2019 schedule will be released in June 2019: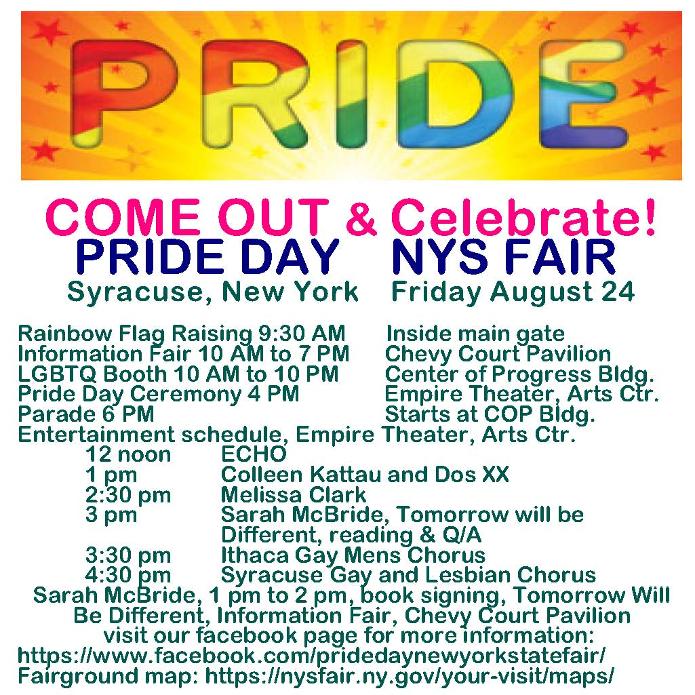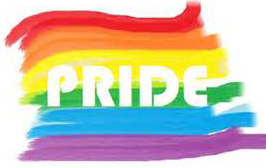 Pride Day celebrates the LGBTQ community, providing a welcome for all members of our community, our families and allies! Pride Day is now an officially recognized day at the Fair, with a rainbow flag raising, Information Fair, ceremony and participation in the daily parade. In addition, visitors can come to the LGBTQ Pride Booth on Pride Day and throughout the Fair for free literature and can take their photo at our I Love New York LGBT display, complete with the rainbow heart logo!
We provide information on services, professional resources, and the vast array of programs for the LGBTQ community. We also foster awareness of issues of concern to the LGBTQ concern, and resources for safe space training. We work to build pride in the LGBTQcommunity, and celebrate the diversity of our community. We also have free stickers from the HRC, their iconic sticker lets everyone know you support equal rights for all.
In addition to the resources available at the LGBTQ Pride Booth on Pride Day we will have an table at the Information Fair in the Chevy Court Pavilion, and participate in the Pride Ceremony at the Fair.


PRIDE DAY EVENTS (estimated times for 2019)
Rainbow Flag Raising 9:30 am
Information Fair, 10 am to 7 pm
Pride Day Ceremony, 4 pm
Daily Parade, 6 pm
LGBTQ Booth, 10 am to 10 pm
To support Pride Day, please use the following sponsorship form. The form can be printed or downloaded. This form also provides information on how to advertise in the NY Pride Network Guide.
You can also use paypal to pay for sponsorship on our sponsor page, the icon is at the top of the page.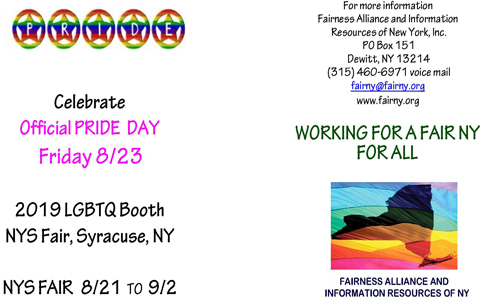 Visit our Facebook Page for Pride Day with this link:
https://www.facebook.com/pridedaynewyorkstatefair/